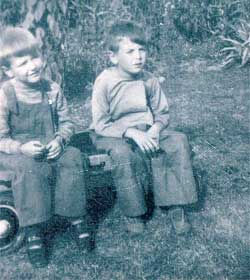 Aylmer Joyes (left) and his brother John (right) on their wagon.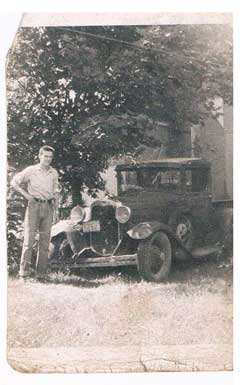 Aylmer Joyes with his first Model A Pick-up truck.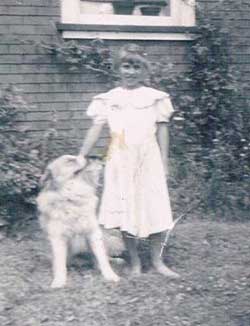 Verna Joyes with her pet dog Puppy!
Verna and Aylmer Joyes got married June 3rd 1961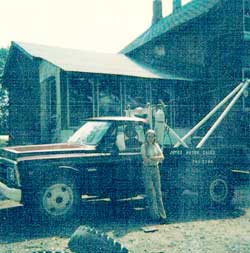 Aylmer Joyes's tow truck with daughter Pat Joyes standing in front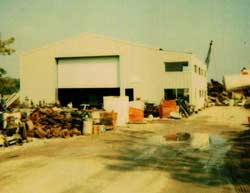 Scale House - Sebringville Yard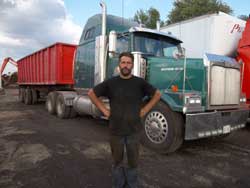 Bill with the tractor trailer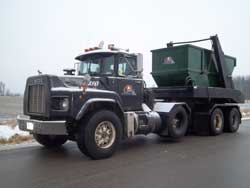 Lugger truck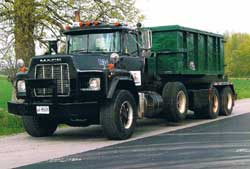 Rolloff Truck
Our Story...
When Alymer Joyes (our dad) was a little kid growing up in wartime Stratford, everyone was urged to gather scrap metal for the war effort and the rebuilding that followed. Together with his friends they used to "pick" the dump for metal, scrounge the curb for stuff and generally run wild the way everybody's kids used to . They took metal in their wagons to Ason Moll's and Minor Hockey Salvage.
He used to drive his father crazy. He'd say "You'll grow up to be nothing but a damn junkman!"
Well, I guess he was right. By the time Dad got his first pickup truck (handsome devil, wasn't he?) he was a full fledged gear-head, wrecking/fixing cars in the backyard, buying this and selling that, and hauling scrap from where ever he could get it to where ever he could sell it. Along came a girl who could tolerate this behavior, and the rest as they say, is history. Aylmer & Verna married June 3rd, 1960. They moved out to Lot 14 Concession 7 of Ellice Twp (4546, Line 42), had a bunch of kids and started a little junkyard of their own. People have been bringing scrap here ever since.
Well, there's been a lot of water under the bridge since then, a lot of trials and tribulations and a lot of growing pains. A lot of firsts, too...our first tow truck, our first crane, our first scale. In the 80's I went to York University and worked at an industrial scrap yard in the city. When I returned to the area I worked off the back of my 68 Dodge Dump Truck, buying batteries (so much for a liberal arts education!) My brother Bill worked out as a truck mechanic, where he learned fleet management and how to fix or build anything.
In 1989 we put all our eggs in one basket and incorporated Secondary Resources (Perth) Ltd. We phased out wrecking cars and experimented with the garbage business and paper recycling. This taught us an important lesson - you can't be all things to all people! Today we only do one thing, scrap metal recycling, but we do it very well.
We operate two scrap metal processing yards, our original yard on Line 42, 2 km east of Wartburg, and our yard at 205 Nelson Street east in Goderich. We opened our second yard in Sept 2007. It hit the ground running and has been full speed ever since. We service industrial, commercial, and dealer accounts from Kincardine to Cambridge. We offer lugger and roll-off bins, as well as non-ferrous pick-ups and tin-scow and dump trailer service for large quantities. We do plant dismantling, mobile shearing and car flattening. We load off-site in large quantities, and ship scrap to a variety of markets in Canada, the U.S. and Asia. We ship steel-mill direct, we feed several shredders, and we load sea-containers.
We buy ALL scrap Metals in All quantities, ranging from a bag of Aluminum cans to a package of hundreds of tons of cars. We have scrapped items as diverse as locomotives, flight simulators, bridges, planes, tankers, buildings. We have worked with everyday metals such as copper, aluminum and steel as well as obscure metals such as nickel-cobalts, sfronttam, platinum and tungsten carbide.
We run a crew of 10 to 15 people, depending on volumes and weather conditions. They are experienced scrap guys, some of whom have worked for us for decades. Using our equipment which is owned not rented, we process material by shearing bailing, slow-speed shredding, heavy torching, flattening, and plasma-cutting. We offer guaranteed destruction services for materials such as tooling and dies new products which have been rejected and proprietary technology. We enjoy a challenge, and have taken some projects on just to see if we can do them. We process thousands of tons of material every year.
Our family has now been in the scrap business for more than 50 years. We continue to offer accurate weights, freindly service and fare pricing. We look forward to the opportunity to serve you.
Tom Joyes - Operations manager
Secondary Resources (Perth) Ltd
Areal Shot of Sebringville Scrap Metal Processing Yard from the sky.
Sebringville Yard with ScaleHouse
Goderich Yard
Hours of Operation
Inside Building at Goderich Yard